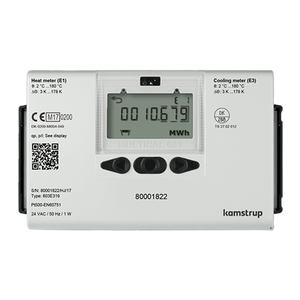 Heat meter (separate calculator), MID approved according to EN1434.
ULTRAFLOW® 54 ultrasonic flow sensor with 2.5m signal cable, MID approved according to EN 1434.
qp 40.0 m3/h, DN80 PN25 Flange x 300 mm
Stainless Steel
Nominal flow rate: 40.0 m3/hr

Two communication slots available (additional output modules available under spares).
Wall Bracket
Calibration Certificates
Bulk discounts available.
The product picture is for illustration purposes only.
Downloads
Product Data Sheet
Technical Description
* BACnet and Modbus RTU modules require AC power supply in meter.
** Only required if you wish to connect the meter to a remote reading system.