If you are looking for Kamstrup meters on a next day service, competitively priced, you are in the right place with Stockshed.
We have been using Stockshed for years for all of our metering requirements, above all else for their customer service and technical knowledge.
I was so impressed from the beginning with the product advice, delivery and tracking information, thoroughly recommend.
Kamstrup Multical Heat & Cooling Meters
Kamstrup Multical 302
The Kamstrup Multical 302 heat or cooling meter is the economic compact range available in 1/2" BSP and 3/4" BSP sizes only with a 6 or 12 year non-replaceable battery and wired or wireless M-Bus output. This meter has a 1.2m fixed display cable and integrated 1.5m temperature sensors with no option for longer cable length.
More Information
Kamstrup Multical 403
The Kamstrup Multical 403 heat meter is the mid-range meter available in 1/2" BSP to DN50 size with one optional communication module. The cable between the display and flow meter is fixed at 1.5m length and cannot be disconnected either end. This meter has a replaceable battery or AC power supply and the option for 1.5m, 3.0m, 5.0m or 10.0m temperature sensors.
More Information
Kamstrup Multical 603
The Kamstrup Multical 603 is available in 1/2" BSP to DN300 size and has two communication slots for optional output(s). The standard length 2.5m display cable between the calculator and flow meter is available in longer lengths if required and can be disconnected at the calculator end and flow meter end on DN150 and larger meters. This meter has a replaceable battery or AC power supply and the option for longer temperature sensor cable lengths.
More Information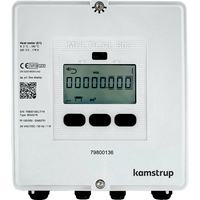 All popular sizes in stock for next day delivery
With extensive UK stock, we are able to supply Kamstrup Multical heat or cooling energy meters when you need them.
We also stock replacement spares including batteries, temperature sensors & pockets for current and discontinued meters.
Our exclusive life time customer service, technical support and product knowledge is available to assist and support you with meter selection or advice, 6 days a week.
All Kamstrup Multical heat meters are Class 2, MID approved in accordance with EN1434 and are RHI (Renewable Heat Incentive) compliant.