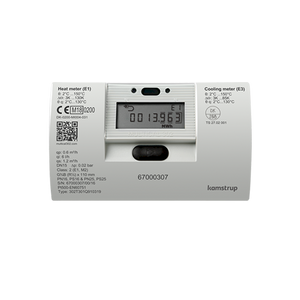 Cooling meter, BEK 1178 (National Danish cooling approval) approved according to EN1434, with integrated ultrasonic flow sensor with 1.2 m signal cable and an integrated set of temperature sensors with 1.5 m cable. Incl. 6 year battery and wall bracket. 
qp 1.5 m3/h, G3⁄4B (R1⁄2) x 110 mm, PN 16/25
3/4" BSP male thread on meter body, 1/2" BSP male thread on optional unions.
Typically for 15mm pipe installation.
Nominal flow rate: 1.5 m3/hr
Bulk discounts available.
The product picture is for illustration purposes only.
Downloads